The idea of watching the setting sun as your drive in your gorgeous car with breathtaking music playing in the background is charming as ever. But the excitement could only last until you realize you missed out on a sweater in the middle of a chilly day or accidentally left a bag with toiletries while trying to fit all the stuff in your packed vehicle.
A good company does make a good road trip. But what can make sure you enjoy a fun, hassle-free one is if you pack your belongings well. Having well-organized baggage ensures you can access anything and everything you need, whenever and wherever. This way, you can avoid hunting for these items on the way or having to spend the entire trip in discomfort. So here we present some tips to ensure you pack perfectly for your on-road adventures.  
1. Know How Much You Can Store
The first step is to figure out how much you can carry in your car. Roof racks are an intelligent solution for increasing storage while traveling. You can attach one to your car and split the boxes and suitcases to ensure enough space inside the vehicle.
But remember that overloading the vehicle could severely affect driving characteristics, car pull capacity, and overall safety. So, access the GVWR or the gross vehicle weight rating to understand the safe weight limit of your model and size. Keeping the number of passengers in mind, you can determine how much luggage can go in your car.
Also, if you are carrying roof tents, you may end up putting too much weight, especially in the case of small cars. Similar issues could occur with adventure enthusiasts who might like to carry bikes, kayaks, or other stuff. So plan how much to take well ahead for a smooth journey.  
2. Find The Right Way To Store
Staying orderly when you are on the road for multiple days tends to get challenging by the day. Therefore, finding an effective solution to organize and store stuff is the most critical step for having a stress-free trip. It can ensure all the items are instantly accessible at any time.
Storage boxes are one of the best companions for road trips to make your work easy and quick. Premium quality choices like front runner wolf pack can help carry everything you need for the adventure, from clothing to camping stuff, entertainment, food, and snacks. They do not occupy much space and can be loaded vertically in your vehicle, thus ensuring ample space for your luggage and you. You can as well dedicate boxes for each item and carefully label them. This way, if you need something in the middle of the road, you can instantly access it without spending hours digging into the bottom of your suitcase.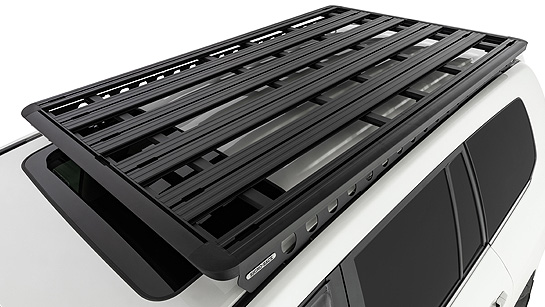 3. Organize For Easy Access
While placing the boxes and other stuff in the vehicle, ensure you arrange it such that you can access essential items easily. Typically your food bags need to be on top so you can open and use them anytime. Below you can store a box with basic toiletries, paper towels, napkins, and some additional clothing for layering up during the evenings like scarfs, overshirts, and jackets.
Load the roof rack with large items you might require for camping as it can save you space inside. You may not need them until you reach the location, so it could help free up space for storing essential items within your reach.  
4. Pack Your Food Properly
Long hours on the road mean loading up on food. So make sure you pack a fair share of healthy fresh foods and packaged snacks to last the entire journey. Choose foods that have a long shelf life and do not require refrigeration. You can include granola bars, dried fruits, chips, etc., to keep you company along the way.
Pack the food in air-tight containers and organize them into storage containers you can arrange backseat. You can also create small sets of snacks in pouches and personalize them for each traveler. It could come in convenient if you are traveling with kids. This way, you can also be aware of any allergy considerations. You can also consider anti-microbial bags helpful in carrying dirty laundry to store your food. These bags can keep dirt and microbes away, thus keeping your snacks fresh and hygienic.
Add plenty of garbage bags, paper towels, hand wash, and wipes to clean up. Carry individual water bottles and refill from a large container that you can store behind the seats.   
5. Use A Diaper Caddy For Your Electronics
Electronics are essential during road trips. The best way to organize them for easy access and safe storage is inside a diaper caddy. You can place all your electronic items, chargers, and backup batteries inside the caddy and put the caddy in the backseat. You can also place game boards, comics, or other items for entertaining you on the way in different compartments. Don't forget to dedicate one compartment to carrying an emergency kit. The caddy is easy to carry around and keeps your phones and tablets organized.
Conclusion
Are you getting ready for a road trip? Well, take some time to go through these tips to ensure you organize your stuff efficiently for the road. This way, you can be assured of a hassle-free adventure contributing to beautiful memories to enjoy down the lane.